The iconic Robbins Farm slides will return soon, plus a whole lot more!
The Friends of Robbins Farm Park are thrilled to partner with the Town of Arlington to raise funds in support of the renovation of Robbins Farm's redesigned playground.
The new playground concept will incorporate Universal Design principles to create Arlington's most inclusive (not just accessible) playground yet, providing a fun and challenging playscape for all kids and caregivers that visit our neighborhood park.
Please help us make the new playground even more fun and welcoming for all residents and visitors and build the type of Arlington that we want for all of our kids to enjoy!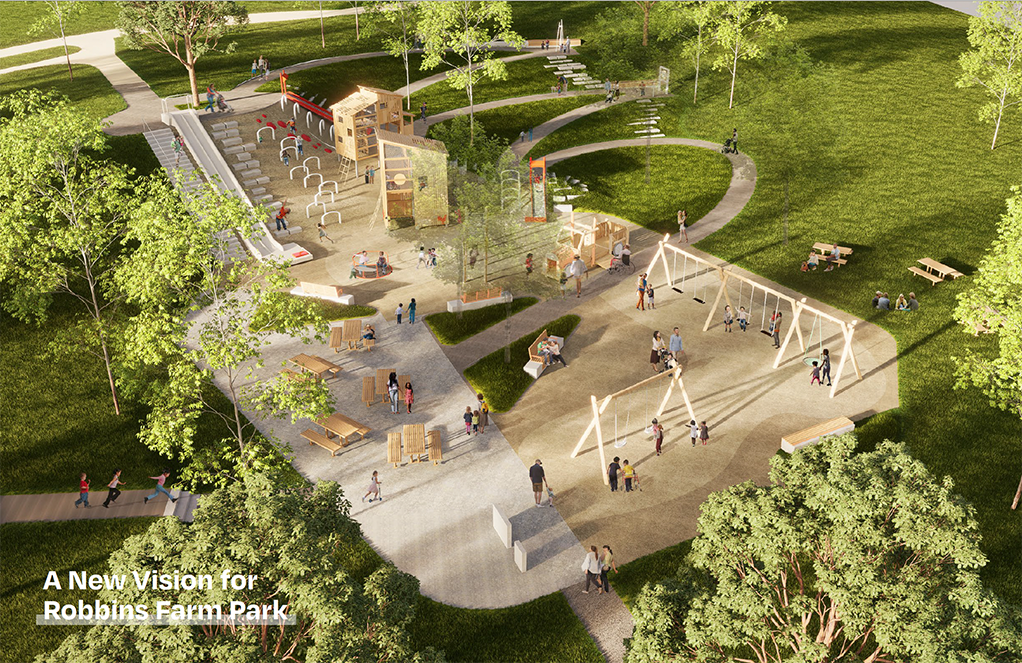 See the final inclusive design, and the latest updates on the project.
Robbins Farm Park has served as a gathering place for the surrounding community for nearly 150 years. We see fundraising as a way to continue Nathan Robbins' tradition of bringing our community together by providing recreational space for everyone. Our goal is to raise $63,000 of the Town's current ~$2.1M cost estimate. Be a part of this continuing tradition by donating to the playground rebuild.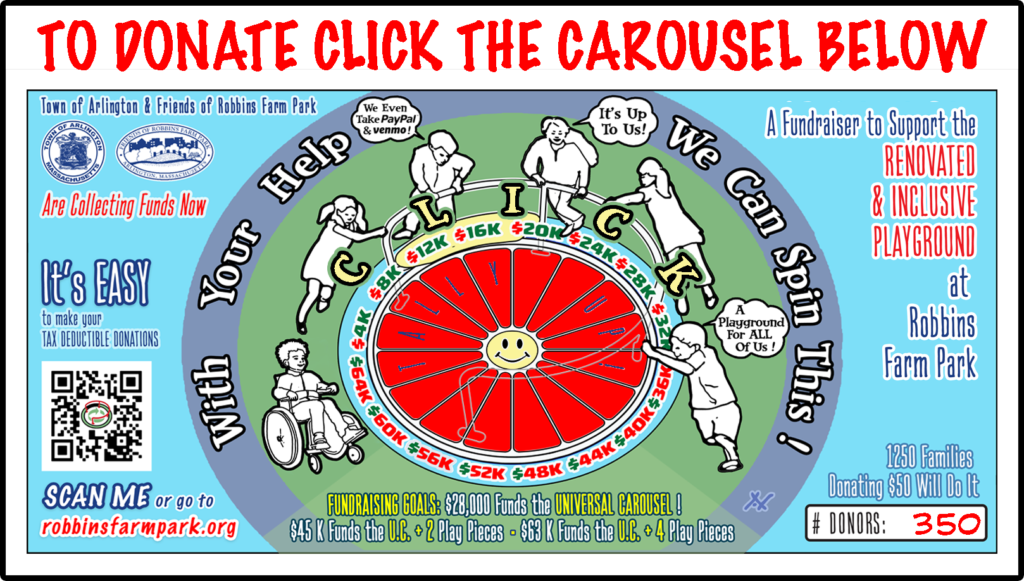 ** Be sure to check if your company will match your gift! **
100% of your tax-deductible donation will go towards playground construction.
The Universal Carousel will be a centerpiece of the main play space at the bottom of the slides.
The additional play pieces will anchor "nodes" of play to create destination spots along a fully accessible path to the top of the playground, encouraging play with anyone who needs to use the path.
Construction is expected to start over the summer with expected completion by Spring 2024.
We will provide more specific timing updates when available.
Checks can be made out Friends of Robbins Farm Park and sent to:
Friends of Robbins Farm Park
c/o Playground Fundraiser
P.O. Box 750013
Arlington, MA 02475
---
FORFP is a charitable not-for-profit 501(c)(3) corporation. Donations are tax deductible to the extent provide by the law.
---