---
Playground Update – October 21, 2022
Share your voice and stayed tuned for other forums for input!
The Arlington Park and Recreation Commission will hold a public input meeting with the project landscape architectural firm of Agency Landscape and Planning to solicit input for the design of playground improvements at Robbins Farm Park. This meeting will take place at 6 pm on Monday, November 14, 2022 via Zoom. See the link below for details and to register:
https://www.arlingtonma.gov/Home/Components/Calendar/Event/30772/3757?curm=11&cury=2022
As a reminder, the entire playground is scheduled to be renovated and is expected to be completed by late next summer (2023). The playground funding has been approved and the town is currently soliciting design firms with the plan to have one selected in early Fall. Then there will be a process for public input. We will provide updates on specific timing and venues so that you can share your thoughts. You can stay up to date with the playground project via the Town of Arlington website: https://www.arlingtonma.gov/Home/Components/News/News/12502/495
---
Previous Playground Update
The Arlington Recreation Department has provided the following update on the Robbins Farm Park playground:
Today we were able to have the elementary aged swings installed and also were able to figure out a way to install two tot bucket swings. We are unable to open them fully because we are low on the playground surfacing but DPW has ordered some and it is expected in next week. Once we are able to build up the safety surface under the swings we can open the swings back up.
Thank you and everyone who uses Robbins Playground for your patience as we worked through these issues.
---
2022 NEWSLETTER
HOT OFF THE PRESS!

---
---

2020 NEWSLETTER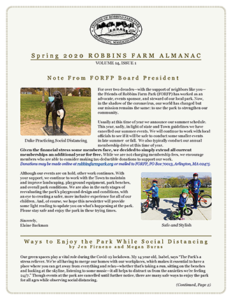 ---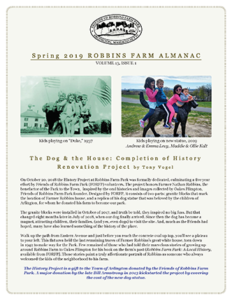 ---
---