If you have an event at Robbins Farm Park or in the neighborhood and would like to post it here on the web site, or are interested in volunteering to help out at one of our events, please get in touch with us at: friends@robbinsfarmpark.org
---
FRIENDS OF ROBBINS FARM PARK EVENTS CALENDAR (& MORE To Come!)
---
Spring Cleanup & Kite Day — Saturday, April 23rd, 9 am
Come and meet the Robbins Farm Community at our spring cleanup! Join us to rake, remove invasive species, and spruce up the park.

Feel free to bring your own rake, shovel, pruning shears (label them, please) OR we will sanitize any shared equipment we provide.

If you are NOT fully vaccinated, please wear a mask at all times during cleanup.
AHS Students who volunteer are eligible for community service hours.
Please Sign Up For The Event
HERE
At 1pm, bring your kites as well and hope for good wind at one of the area's best kite-flying locations. If you come early and help in the cleanup, you'll get a free kite. FORFP Volunteer Dick Harmer, our neighborhood "Kite Man," will bring his fantastic collection of colorful kites to share with the kids and will provide instruction.
---
---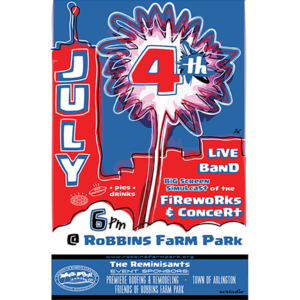 Independence Day Concert and Picnic —  The BIG SCREEN RETURNS! — Monday, July 4th, 6 pm
Last July 4th was our first major event since the pandemic, but it was only the Band and the Picnic.
This year we are thrilled to bring back the FULL EVENT, our Live Band PLUS our BIG SCREEN Presentation!
The event is free and open to all. 
Our Independence Day Celebration starts at 6:00 pm, our favorite Oldies Band, The Reminisants will entertain us once again! Bring a blanket and a picnic dinner for our traditional FREE Concert and be prepared to DANCE! It's as American as Apple Pie (and Pizza Pie), so of course we'll have some for sale along with drinks.
Get your seats on the hill. After the music we'll be showing the BOSTON POPS ESPLANADE CONCERT and BOSTON FIREWORKS broadcast Live on the BIG SCREEN for the first time since 2016
---
---

Jazz Concert — RESCHEDULED – Thursday, July 21st, 6:30 pm – Harvard Alumni Jazz Band
NEW DATE, SAME GREAT MUSIC!
Join us on for a free jazz concert by the Harvard Alumni Jazz Band, a 17-piece jazz big band with members from Arlington and surrounding communities. Our concert will be at our usual venue in the Park. Enjoy the music of Count Basie, Charles Mingus, Miles Davis, and many others! The concert is FREE thanks to the generosity of the band, which includes neighborhood resident Allen Feinstein. This is a great event for all ages. We encourage people to bring your own picnic dinner. This will be our 13th Annual Jazz Concert!
---
---

Rockin' Robbins Concert — Saturday, August 6th, 6:00 pm, School of Rock House Band
Join us for a free concert featuring the Natick School of Rock  House Band.  The House Band music program allows each school's most talented students under the age of 18 the opportunity to join a band and play routinely in front of live audiences.  Their typical set lists include songs from a number of genres including Pop, Rock, Alternative Classic Rock.  This is a great event for all ages.  Bring a picnic and come out and support some young aspiring musicians.
---
---
Classical Concert (Mystic Brass Ensemble Players) — Saturday, August 27th, 3:30 PM
We are very pleased to announce that the Mystic Brass Ensemble Players will play for us at our end of summer Classical Concert.
This concert will feature four of the members of Arlington's large brass and percussion group, the 
Mystic Brass Ensemble
 which is about to begin its sixth season at the First Baptist Church of Arlington.
The quartet will play a variety of compositions and transcriptions for brass from the 16th to 20th centuries. And they'll mix it up with Pops music we will all recognize.
This is a great event for all ages and is FREE thanks to the generosity of the musicians. We encourage people to grab their seats on the hill early and bring a picnic.
PROGRAM NOTES
The concert subtitle could be, "What Brass Players Play for Fun." Our featured musicians most often play these selections as chamber music in their living rooms or basements. (Frequently the music is accompanied by adult beverages or ice cream).
. . . . . . . . . . . . . . . . . . . . .
Classical Program 
Andrea Gabrieli:  Ricercar del duodecimal tuono – 1589
Wilhelm Ramsøe:  Quartet No. 4, opus 37 – 1888
Paul Hindemith:  Morganmußik – 1932
Gioacchino Rossini – Overture to the Barber of Seville – 1816
Wolfgang Amadeus Mozart:  Fugue, K. 401 – 1773
. . . . . . . . . . . . . . . . . . . . .
PS The show must go on!
A big thanks to the MBE Players for helping us keep that promise, after we learned that the 
Arlington Philharmonic Orchestra
,
which has entertained us over the last few years was unable to join us this year.
---
---

Movie Night ———— Saturday, September 10th, 6:30 pm 
Join us for Robbins Farm Movie Night Sat, Sept 10, featuring Encanto, about a magical family (but don't talk about Bruno!). We will sell pizza, popcorn, drinks and ice cream starting at 6:30 pm; the movie will start at 7:30 and end at 9:20 pm. Bring a picnic blanket, chairs, and settle in to enjoy the entertainment
---
---
Arlington Town Day —— Saturday, September 17th, 9:30 am to 3:00 pm
Stop by our booth (#243) at Town Day between 9:30 am and 3:00 pm to find out more about the Friends of Robbins Farm Park, the events we host and how you can get involved.  We'll also have some T-shirts for sale. 
Click here for more information on Arlington Town Day 2022 including the location and a schedule of events.  Hope to see you there!
---
---
Annual Field Day —— Saturday, October 15th, 1 pm to 4 pm
Please join us for a fun-filled afternoon of activities and seasonal refreshments.  This family-oriented event will include old-fashioned races (3-legged, egg-on-the spoon, sack race, etc.), games (e.g. cornhole), information on the history of Robbins Farm and a scavenger hunt.
Seasonal refreshments including apple cider, apple cider donuts and apple pie as well as pizza will be available for a nominal charge.
Note: Due to ongoing Covid-safety concerns we will not have face painting or the bouncy house again this year.  There are still plenty of other fun activities for people of all ages!
---
---
Fall Cleanup Day —— Saturday, November 5th, 9 am to 12 pm
Our last event of the season at Robbins Farm Park is our fall cleanup, where we prepare the park for winter by raking, pruning, weeding invasives and planting bulbs.
Also, Arlington Recreation Director Joe Connelly and the landscape architect for the playground reconstruction will conduct a meet and greet by the playground from 10 am – 12 pm to answer questions on the rebuild.
Please note that AHS volunteers can earn community service hours for this event.  Hope to see you there!
---
---
---
---
---
---
---
---
---
---
---