Classical Concert Returns!
Classical Concert in Robbins Farm Park 2021 (Arlington Philharmonic Orchestra) ————Saturday, August 28th, 3:30 pm

Join us for a free classical music concert with performers from the Arlington Philharmonic Orchestra with members from Arlington and surrounding communities. The concert is FREE and features music by a variety of composers. This is a great event for all ages. We encourage people to bring their own picnic.
PROGRAM Conductor, Orlando Cela)
Elgar – Nimrod
Bizet – Carmen Suite #1
Smetana – Vltava
Moss – Salute to Ol' Blue Eyes
Rickets – Pirates of the Caribbean
Sousa – Stars and Stripes Foreve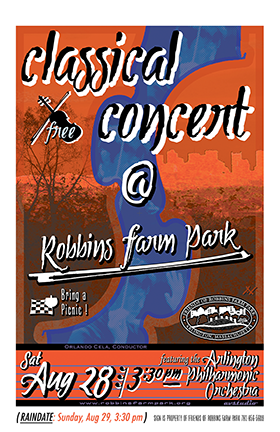 ---