PLAYGROUND DESIGN – PUBLIC INPUT MEETING #2 – (ZOOM REGISTRATION LINK BELOW)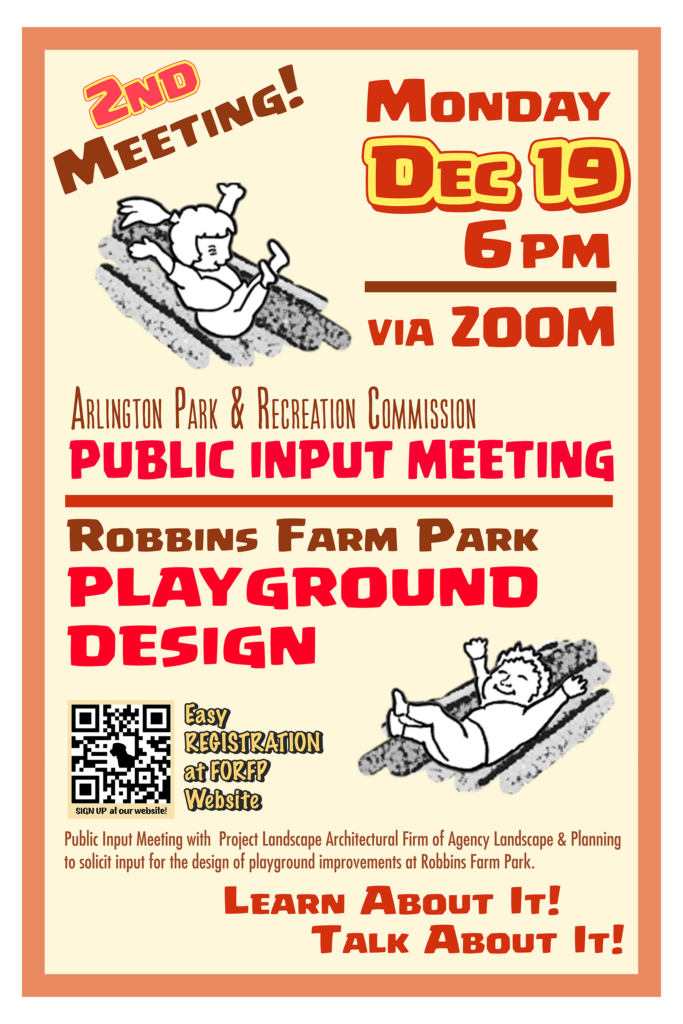 Park and Recreation Commission Public Input Meeting #2 – Robbins Farm Playground
---
STAY INFORMED & HAVE YOUR SAY about the PLAYGROUND DESIGN at Robbins Farm Park!
Click on
ROBBINSFARMPLAY
to view the PRESENTATION from the November Meeting #1 by the Landscape Architects and ALSO to REGISTER for the upcoming Public Input Meeting #2 on Zoom on Monday, December 19 at 6 pm.
---
BELOW is the information from the official announcement on the Town of Arlington Website where you will also find a link to register for the meeting:
Date: 12/19/2022 6:00 PM – 8:00 PM
Location: Conducted by remote participation
The Park and Recreation Commission will hold a second public input meeting with the project landscape architectural firm of Agency Landscape and Planning to solicit input for the design of playground improvements at Robbins Farm Park. This meeting will take place at 6 pm on Monday, December 19, 2022 via Zoom and can be accessed by registering for the meeting at the web address below.
View the presentation from the first public meeting.

All interested persons are encouraged to attend. Written comments may be sent to the Arlington Recreation Office, 422 Summer Street, Arlington, MA 02474 or emailed to jconnelly@town.arlington.ma.us.

REGISTER IN ADVANCE FOR THIS MEETING:
https://town-arlington-ma-us.zoom.us/meeting/register/tZAsc-2vqDwqHdSWJF8Da0iCELyzrfDe3swI

After registering, you will receive a confirmation email containing information about joining the meeting.
Executive Order on Remote Participation
---