Play is For Everyone! – Showcase a bit of the new Playground
Each week we will highlight a different feature of the new Robbins Farm playground design as we continue our efforts to fundraise for this awesome and inclusive playground.
Post #1: Play Is For Everyone!—Slides that are fun for all kids
Please help us invest in this awesome and inclusive playground: https://robbinsfarmpark.org/playground/
The long slides have been a hallmark of Robbins Farm Playground for over 2 decades. The new iteration will be a double slide—so friends can continue to race each other—made of precast concrete that is extremely durable. At 16' high and 36' long, this custom ordered slide will be slightly shorter and steeper than the current slides and the longest of its kind on the East Coast. The surface can be adjusted after installation to make it faster or slower, as needed. At the base will be an ADA dignity platform that allows someone using a mobility device to scooch to the side. This means they will have as much time to get up from the slide as needed, while other kids can continue to use the slide. More fun for all!
Also planned are 2 additional slides: a medium length 7.5' roller slide and a shorter 4' roller slide. Now Robbins will have slides for all risk-taking levels! The roller slides, while fun for all users, are especially helpful for kids with low muscle tone, as the rollers propel the child's legs forward.
The long and short of it: 3 new and improved slides that will last, supply fun for different ages, and are accessible to a wider range of kids. This is one of the many ways the new park provides inclusive play for all.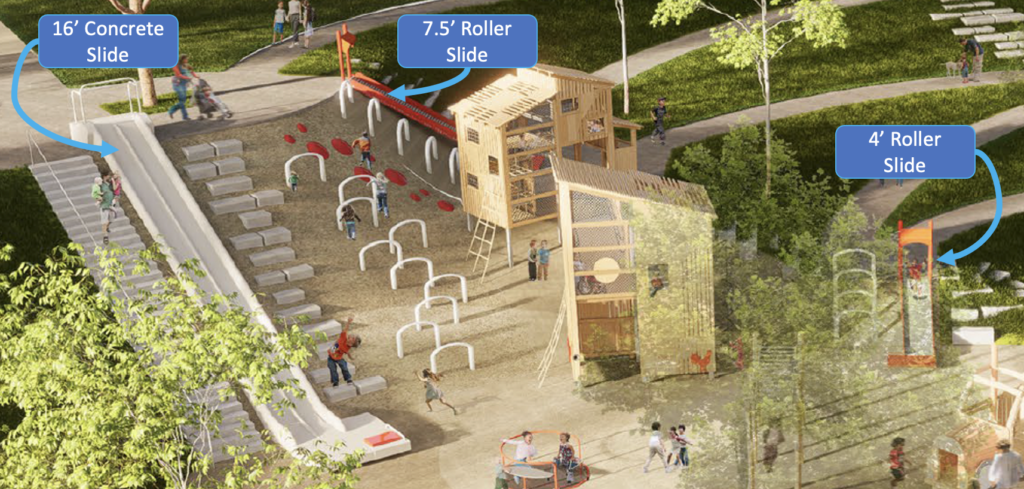 The slide layout in the new playground
Similar concrete slides at Boston City Hall (ours will be double slides and are much longer!)
---